Barcelona attack: 13 killed as van hits crowd in Las Ramblas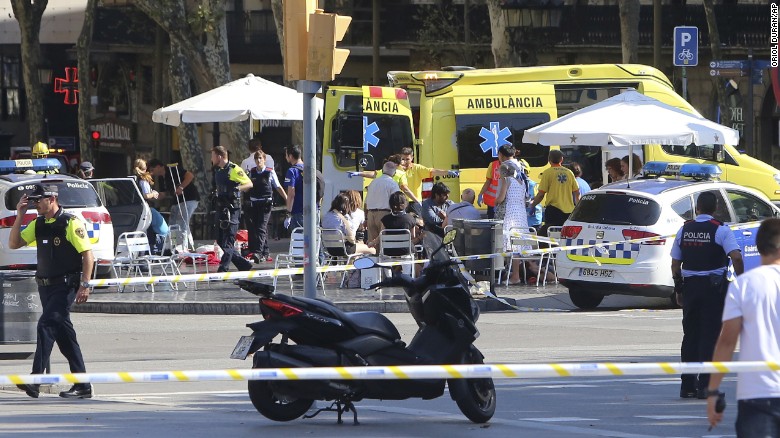 At least 13 people were killed and more than 100 injured when a van ploughed into crowds in Barcelona's Las Ramblas area on Thursday afternoon. Spanish Prime Minister calls deadly Barcelona attack 'jihadi terrorism'
Witnesses described seeing a white van zig-zagging at speed along the pedestrianized area, deliberately targeting people, knocking many to the floor and sending others fleeing for cover in shops and cafes. The attack happened at the height of the season in one of Europe's top tourist destinations.
Spain's civil protection agency says victims of the Barcelona attack were from at least 18 different counties including France, Germany, Spain, Netherlands, Argentina, Venezuela, Belgium, Australia, Hungary, Peru, Romania, Ireland, Greece, Cuba, Macedonia, China, Italy and Algeria.
Two people have been arrested in connection with the incident, one born in Morocco and one born in the Spanish enclave of Melilla, north Africa.
Police also released a picture of the man who allegedly rented the van. However, local media have since reported the man - named as Driss Oukabir - has handed himself in to police and told them his papers were stolen and used without his knowledge.
The Islamic State militant group claimed it was behind the van attack in Las Ramblas, saying in a brief statement carried by its Amaq news agency that it was carried out by "Islamic State soldiers". The group gave no further evidence or details to back this claim.